Films
Toff Guys
Lorry driver stopping to marks.
"Untitled" Film
Bohemian Rhapsody
Precision truck driving double for Adam Lambert, "Trucker".
Johnny English 3
Bough stunt double. Hedge Cutter Driver. Also Nondescript (ND) driver for near misses.
Red Sparrow
ND Driving.
Darkest Hour
Vintage motorcycle rider riding through lines of busy traffic.
Annihilation
Precision ambulance driving double for Crystal Clarke, "Ambulance Driver".
Kingsman 2
ND police car driver.
The Conjuring 2
ND car driver as part of car driving sequence
Patient Zero
Training Matt Smith to ride a motorcycle
Norfolk
Trained actor, Denis Menochet, to ride a motorcycle and quad. Doubled for "Quad Bike Rider" to ride quad at speed.
Obsession Dark Desires
Double, general motocross riding in sand quary.
RED 2
Precision lorry driver, T-bone crash into Range Rover, handbraking lorry for CGI Jack knife. Also Lotus car weaving around and under my trailer. Stunt performer, Russian soldier getting shot in the leg by Helen Mirren!
World War Z
Rehearsals as zombie, fights in the plane.
The Counsellor
Motorcycle Lay down crash on R1 at 75 mph. The bike slid down the road for 200 feet! Motorcycle riding double for Richard Cabral.
Kick Ass 2
Precision driving and running over dummy at speed. Also Andy Nyman "Tumour" double, handbrake turn in American van.
Skyfall
Doubled Daniel Craig, "Bond", but please note I was not the main stunt double, this was only for this precision driving sequence of the Aston Martin as Bond travels up to Skyfall around mountain side roads.
The Numbers Station
Precision driving, Finbar Lynch double for sequence down track at night.
Captain America – The First Avenger
War Horse
Attack the Block
Dead Cert
Stunt performer, general fights.
Hereafter
ND driving.
Street Dance
Precision Motorcycle riding double for Bradley Charles, "Frankie".
Your Highness
General fighting. Small part as an Albino guard, fight with James Franco, "Fabious" using spears and knife.
Clash of The Titans
Stunt performer, as buildings are destroyed.
Harry Potter & The Deathly Hallows – Part 1
Double for Ron Weasley, being chased by the "Snatchers" in the woods. Note that I was not the main double, and this was only for this one second unit sequence for a couple of weeks filming.
Nottingham, Robin Hood
Stunt performer, as Monk, running from horses.
A Bunch of Amateurs
Precision driving double for Burt Reynolds, "Jefferson Steel", in a car and library van. Stunt double for Derek Jacobi falling face first into muck in a pig pen.
National Treasure 2
Part as Police rider for laydown crash. Stunt performer, pedestrian avoiding vehicles. ND driving.
Starting Over
Precision driving double for Daniel Sharman, "Alex Dewhurst", driving at speed, near miss, then crash into a log pile.
The Dark Knight
Stunt performer as a Jokers man in jail as explosion takes place. Uniformed policeman.
Bourne Ultimatum
On stand by for part as hooded man.
Little Terrors – Film, Promo
Bicycle riding double for Benjamin Smith, "Brett" to crash bicycle, over the handlebars.
Deaths of Ian Stone
Did most of the stunts in this film. Stunt double for Mike Vogel, "Ian Stone" for car driving near miss, jerk backs and general stunts. Doubled "The Creature" for a few parts, hanging upside down and jumping the stairway. Doubled Michael Feast, "Gray" being pulled into the grate. Also driving double for Jonathan Magnanti, "The Taxi Driver". Precision van driver for knock down.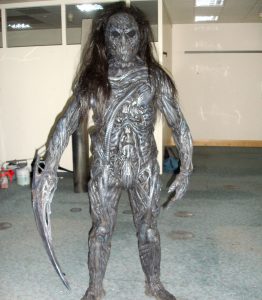 Doubling a creature on The Deaths of Ian Stone.
Born Equal
Precision driving double for Colin Firth on the Film, Born Equal for a near miss with Robert Carlisle who runs into the road.
Atonement
German motorcyclist.
Elizabeth
Sailor on ship as attacked, climbing rigging.
Stormbreaker
Motorcycle riding double for Ewan McGregor, chase, including jumps, jumps through explosions and motorcycle laydown. Also a Military Quad rider in vehicle chase. Also ND car driving.
Da Vinci Code
Amongst a Medieval battle scene, an archer and fighting.
Eragon
Stunt tests for riding mechanical dragon.
Charlie & the Chocolate Factory
Motorcycle rider leaving factory to put up posters for golden tickets.
Victims
Stunt double for scooter riding.
Batman Begins
Passer by under exploding building.
Thunderbirds
Stunt double for Brady Corbet, "Alan Tracy". First in Seychelles, fights, fall down steep hill. Back to Pinewood for slide down air duct. Moped riding, jumping ramp to ramp. Jerk backs. Jump down shaft. On G-ride on wires, blue screen work. Choked and hung from wire. Fighting. Fall through trap doors on descender. Down slide then off cliff edge into lake.
Wimbledon
ND car driver
Enduring Love
Stunt double for Daniel Craig, "Joe", hanging and falling from Balloon.
The Calcium Kid
Stunt performer for fight, own part, hit with pool cue.
I'll Be There
Precision motorcycle riding double and Crash through window for Craig Ferguson.
Johnny English
What A Girl Wants
Motorcycle riding double for "Oliver James".
Tomb Raider II
Motorcycle riding double for Angelina Jolie, Lara Croft". Wheelies and jumps.
Die Another Day
Ski-doo Rider.
The Club
Tricks on an R1 motorcycle including wheelies, and stoppies and riding at speed.
Joy Rider
Motorcycle Stunt-double and Motorcycle Crash.
Anita and Me
Motorcycle Stunt double for "Sam".
Reign of Fire
Part as Piscatella, precision motorcycle riding. Part as a Van Zan Soldier.
Als Lads
Marc Warren stunt double for bare knuckle fight, boxing fight and other general fights.
Last Orders
Soldier, firing gun, reacting to bullets and explosions.